Discover more from #CoolShit - Curated Daily
For the past 6+ years, every morning I (@shelbyerickson 👋🏻) read the internet and share with you a summary of what I thought was cool. Sometimes it's business shit. Sometimes it's artsy shit. Sometimes it's random shit. But every time, it's #CoolShit
#CoolShit 06.19.20
Happy Friday!
WARNING: I'm not going to share, what has become my Friday normal, my list of "things to watch, read, and listen to this weekend."
Instead I have only 2 things that I want to share with you today.
First, and I'll keep this short, you know that mystery project that I've been teasing you with for the past couple of months, well yesterday we officially revealed the project to the public! You can watch the Insta Story reveal here:
iNSAiNZ Training, powered by Boosta
And as much as I'd love to go into great detail about how Boosta is quite literally my lifes work(which I most definitely will at a later time), I want to focus today's email on a more important subject, which leads me to the 2nd thing…
Happy Juneteenth!
With the current climate of the world, this Juneteenth feels incredibly important. We should all continue to learn about the atrocities that lead up to Juneteenth, and then celebrate & elevate this day.
Here's a quick short that was featured on ABC's Blackish, featuring The Roots.
What is Juneteenth?

On June 19, 1865, about two months after the Confederate Gen. Robert E. Lee surrendered at Appomattox, Va., Union Gen. Gordon Granger arrived in Galveston, Texas, to inform enslaved African-Americans of their freedom and that the Civil War had ended. General Granger's announcement put into effect the Emancipation Proclamation, which had been issued more than two and a half years earlier on Jan. 1, 1863, by President Abraham Lincoln.

The holiday received its name by combining June and 19. The day is also sometimes called "Juneteenth Independence Day," "Freedom Day" or "Emancipation Day."
Would it ever become a national holiday?

In 1980, Texas became the first state to designate Juneteenth as a holiday, though the recognition is largely symbolic. Since then, 45 other states and the District of Columbia have moved to officially recognize the day. In 2019, New Hampshire became the latest stateto declare Juneteenth a state holiday. On Tuesday, Gov. Ralph Northam of Virginia said he would propose legislation to make Juneteenth a paid state holiday and on Wednesday, Gov. Andrew Cuomo of New York declared the anniversary a holiday for state employees.

But so far, it has fallen short of becoming a national holiday. There are several online petitions calling for the change, and Senator Bernie Sanders of Vermont also called for it to become a national holiday in 2019 when he recognized Opal Lee, an activist in Fort Worth who campaigns for the cause. In 2018, the U.S. Senate passed a resolution designating June 19 as "Juneteenth Independence Day," but it has not yet reached the House.
Why has Juneteenth become so important this year?

"The stakes are a little different," Mr. Neal said. "Many African-Africans, black Americans, feels as though this is the first time in a long time that they have been heard in a way across the culture."

"I think Juneteenth feels a little different now," he said. "It's an opportunity for folks to kind catch their breath about what has been this incredible pace of change and shifting that we've seen over the last couple of weeks."
---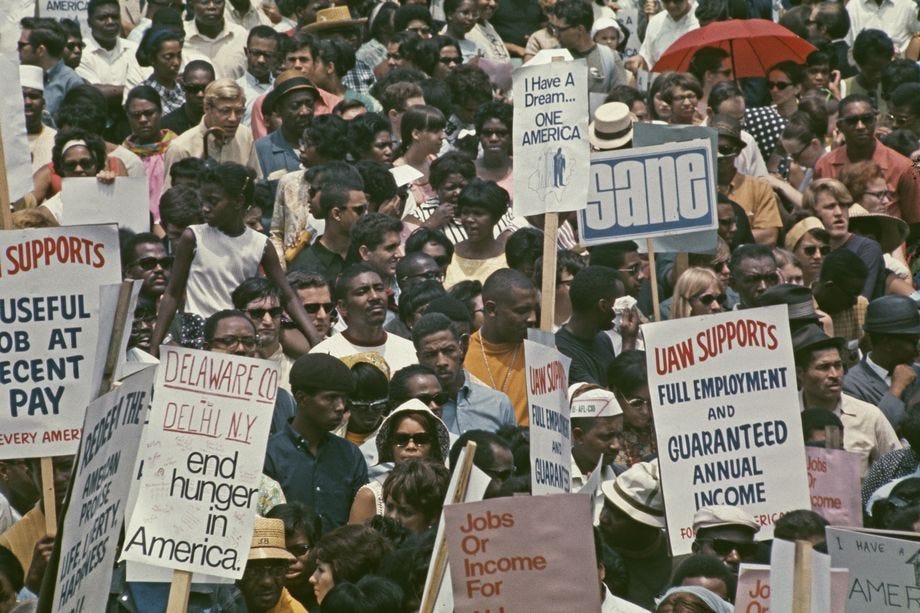 Juneteenth should remind America what it owes black citizens
This Juneteenth, a rallying cry has taken hold as uprisings around the world take place. "Defund the police" has become the signature demand of those marching for racial justice, and is about more than just taking money from the city budget lines devoted to law enforcement. It is about investing in low-income black communities in a real and substantive way.
Some of these changes will make a difference, others are merely symbolic, but none of them truly address the demands to invest — heavily — in righting the economic wrongs that have plagued America since its inception.
Inequalities established during centuries of discrimination were allowed to settle and fester into American life. This leads to what Harvard's Bobo calls our modern age of "laissez-faire racism" — a type of racial inequality predicated "on the market and informal racial bias to recreate, and in some instances sharply worsen, structured racial inequality."
Juneteenth is an occasion to remember what we have forgotten. It is a time to remember not just how far African Americans have come in the United States since slavery, but how much, particularly on economic policy, they are still owed.
---
See you Monday!
-Shelby